There is a part of everyone that is susceptible to the calling of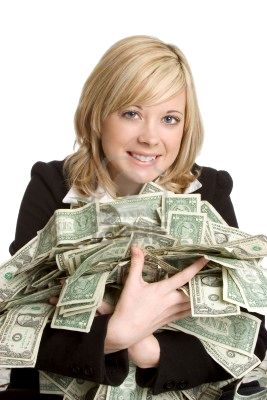 money especially if you are having financial difficulties or you are just plain money hungry.  There are scammers out there on the internet who understand this and they tend to prey upon this very strong emotion.  Greed and desperation has led and continues to lead people down this path to their destruction and the only one who gains is the scammer.  Do your research before joining any opportunity or buying a product or service Frustrated Network Marketer–The Search Is On…Part 5.
Never let the promise of money excite you but rather try the company's products and/or services first to see if they are any good and if they excite you.  Once you have established that you like the service or products then take a look at the money and then try sharing the products with others and see what type of reaction you get as well if there a demand for them.  If you find, after your test, you don't like the products you can return the unopened for a refund of around 90% which good MLM companies offer.
The next step before you sign on the dotted line is to read the contract (policies and procedures) that is between you and the company and remember they are enforceable in a court of law.  If you are not happy with the contract then don't sign up as not all people are comfortable with some of the clauses contained therein.  The contract should not be overly long and if you don't understand it then get an expert to go over it with you to make sure you do.
Take a close look at the compensation plan the company has put into play.  Get an expert to analyze it and explain it to you and if you find you only get paid to recruit new people into the business then get as far away as you can.  You want to get paid for selling products and services so you can build a residual income that will continue to grow as you work the business.
One of the greatest crimes that is perpetrated by a sponsor is when
they bring a new business partner into the business and give them a script for selling the product or service and then just vanish.  This leaves the new recruit on their own with no help except the script.  Make sure if you are thinking about joining an opportunity you check to see what training materials will be available to you.  Ask questions and find out if your sponsor to be will be there when you need help.
There is much to consider when joining a network marketing opportunity especially when it comes to protecting yourself from scammers and bad network marketing companies.  When it comes to joining a business opportunity there is no substitute for doing your due diligence and protecting protecting yourself.  Frustrated Network Marketer–The Search Is On…Part 5.
Commit To Success Today
Dave and Darlene Mills
Leadership With A Vision
"You cannot teach a man anything. You can only help him
discover it within himself." — Galileo